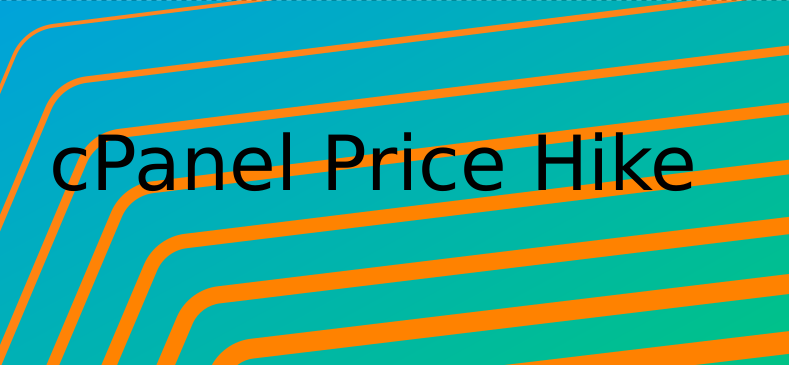 cPanel® is one of the best software I have ever used. It's a piece of work to admire. It's reliable, effective, easy to use, has a beautiful interface, very functional and has the best support I have seen offered for any software. Also, unlike other great software like Microsoft Windows, cPanel® isn't vastly affected with piracy issues. You don't get to be a victim of pirated cPanel® software. Infact, over the years I've worked with this masterpiece, I never once fell victim of an illegal installation of cPanel®. This is just one of the many fine characteristics of cPanel® as a company and their software.
Ever since their founding more than 20 years ago, cPanel® LLC has never increased the price of their software. Yet, they have always kept the standards of their product high and the product has always been reliable. Therefore, this price increase was to come at some point, given that the cost of other factors such as salaries, especially for IT personnel, has been increasing steadily over the last decade or so.
The old cPanel Licensing Model.
Initially, cPanel used to price their product based on the server type it's installed on. We had VPS and Dedicated licenses for VPS and Dedicated servers. They would then provide unlimited accounts for either license bought. The licenses could also be renewed on annual or monthly basis.
The new cPanel Licensing Model.
The new model sees a change in license types and number of accounts per tier. Its an account based billing model, where you are charged based on the number of accounts you have on the server. A new term comes into play in cPanel licenses now: Bulk Accounts. Bulk Accounts refers to cPanel user accounts that are over the 100th account. i.e in a cPanel server, bulk accounts start from the 101st cpanel account. These accounts are charged $0.20 each per month. The cPanel Solo tier has also been removed from cPanel Store and will only be available via cPanel Partners.
The new pricing model charges a fixed amount based on the tier/license type you have on the cPanel server then bulk account charge on any account from the 101st account. The new license types are refereed to as Cloud (formerly VPS) and Metal (formerly Dedicated). Metal license has a fixed charge of $45 while Cloud is either $20, $30 or $45 depending on the tier. The tiers available are Admin (upto 5 accounts), Pro (upto 30 accounts) and Premier (upto 100 accounts and Bulk accounts). While at Premier for either Cloud or Metal license, you may now have bulk accounts, which as mentioned earlier, are billed $0.20 per account per month. Metal licenses don't have Admin and Pro tiers – only Premier.


Admin
(Upto 5 accounts)
Pro
( Upto 30 accounts)
Premier
(Upto 100 accounts)
Premier
(Bulk Accounts)
Cloud
$20
$30
$45
$45 + $0.20 per
account
Metal
N/A
N/A
N/A
$45 + $0.20 per account
When the changes will take effect.
On 27th June 2019, cPanel® made the announcement of their new pricing model and immediately, the prices on their website were updated. The new prices were effective immediately for new setups and renewals. However, for their partners, the price change starts on 1st September 2019.
What this means?
Almost all hosting companies use cPanel® on their servers. The price changes above thus affects the hosting industry in a big way. The one inevitable consequence is that, there will be a hike in price on all hosting companies across the industry. Most companies have already communicated their new pricing structure and updated the same on their websites. Others have chosen to maintain their pricing but move to alternative control panels such as Plesk, Direct Admin etc. For the end user, the choice will be to either top up their budget for hosting their website and emails or to move to different panels and learn to maneuver in the new environments.
Alternative options
Another option for the some users will be to move their websites to VPS hosting. A good deal of companies are able to provide VPS hosting at affordable pricing. With such, one can then use free web panels such as CWP, Direct Admin etc to manage their website. These panels provide most of what cPanel® provides such as DNS management, File Management and Email Management. However, truth be said, cPanel® is many years ahead of them in terms of features, implementation, support, patching etc. They are no equals. If you'd like an experience close to cPanels, try Plesk. Also, unmanaged VPS hosting will require one to have some technical know-how on server management as everything will be on you. If you are a novice, better top up and keep using cPanel®.
What are the benefits of this change in pricing?
In their own words, cPanel® assure us that the price increase will result in an even better user experience with the platform as more resources and talent will be added to improve the product and make it more secure in the increasingly insecure online environment.
"As the company has evolved, cPanel has added more development resources, more structure, and more brain power that, in turn, makes it possible to take on an increasing number of development projects. Adjusting our prices will ensure that we can continue to invest in product development, thrive in an increasingly hostile security landscape, grow our customer ecosystem, and remain a leader in hosting automation." – cPanel® Store Licensing Guide
Conclusion
In conclusion, what I realized from this major price hike is that, provided you have great software, there's nothing you can't do with it. You can hike the price anytime and everyone will make adjustments to fit to the new demands.